Keukenhof Flower Gardens
Sunday 01 April |
09h00 - 20h30
Keukenhof
,
Lisse
,
Netherlands
Event Navigation

The world-famous Keukenhof Spring Gardens are open only 8 weeks per year between mid March and mid May. During this short period it receives well over one million visitors who come from all over the globe to witness this unique presentation of flowers. This is picture postcard Holland at its very best. It is so special, that you simply cannot afford to miss it. Expat Club travels several times this spring from Brussels to the Keukenhof and you are more than welcome to join us. Don't forget your camera, because you will be shooting hundreds of pictures!
We are celebrating 6 years of Keukenhof trips. This year we are offering not only a comfortable trip to Holland including entrance, but also a guided tour, a bicycle tour around the park and a boat tour through the beautiful flower fields.
Over 7 million flower bulbs in countless varieties are planted in the park in the fall. They actually belong to dozens of exhibitors who want to show their latest flower creations with new colours and shapes. Walking through the park you can see which company the flowers belong to. In the Keukenhof bulbs are planted in horizontal layers, so the wide variety of flowers bloom in different periods. It's an ingenious simple solution to ensure there are always many flowers to enjoy.
With over 32 hectares, the Keukenhof is larger than the Cinquantennaire Park, but it doesn't have large open spaces. It boasts countless flower beds, exposition centres, ponds, a labyrinth, hills, a windmill and other lovely little gardens. The variety is so big that you require a map to navigate through it and not to get lost (click here or on the image to download it).
Choose your formula
Your entry ticket to the park is already included in the trip price. Upon arrival at the park you can choose from various formulas: bus + entry, or bus + entry + guided tour, or bus + entry + cycling tour, or a combination. On top of that you can add a whisper boat tour.
Formula bus + entry
You can decide yourself what you want to do with your day. We will not reserve anything for you, so you are on your own.
Formula bus + entry + guided tour (+ €11,00)
Upon arrival we will be greeted by an official tour guide who will take us through a section of the park. The guide explains about the history of the park, the flowers, the flower industry and many more aspects. This tour is highly recommended if you really want to understand what makes the Keukenhof so unique and why Holland managed to create a €5 billion industry.
Formula bus + entry + bicycle tour (+ €11,00)
Upon arrival you will be taken to the bicycle rental stand where you will be given a well-maintained safe bike appropriate for your length. You will receive a map and instructions on the different routes, ranging from 5km, 10km, 15km or 25km (30 minutes to 120-150 minutes). Expat Club does in principle not guide this group, although in practice smaller groups are formed upon departure, so you will never have to cycle alone.
Whisper boat (+ €10)
At 16h30 we reserved a private whisper boat to sail through the canals in between the flower fields outside the park. It provides a unique perspective to the flat Dutch landscape, while you have a unique eye-level view on the endless flower fields. Reserving in advance for this tour is highly recommended as all boats are normally fully booked on weekend days. Only 35 spots available! You can combine the whisper boat tour with formula 1, 2 or 3.
Remarks
You cannot combine formula 2 and 3, so joining the guided tour and go cycling. If you do want to do both we suggest to book formula 2 and leave the park shortly after the guided tour and rent a bike yourself (if still available!). You can come back to the park later on the same entry ticket, also if you would like to join the boat tour at 16h30. Just make sure you ask for a little "tulip stamp" on your hand while leaving the park.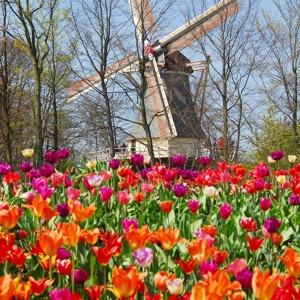 The trip itself
We depart from Place Schuman at 09h00 with a comfortable 4* luxury coach (on-board toilet, DVD/TV, AC, comfort seats, extra leg space). Travelling together is a great way to get to know other people, while you can enjoy the scenery and on-board entertainment.
We will again leave around 18h00, so we have plenty of time to visit all parts of the Keukenhof and explore the various exhibitions with smaller groups or on your own. Our return time in Brussels is foreseen at 20h30.
Some final remarks:
Please be respectful and don't enter the fields outside of the park, unless the farmer is there and allows you to do so. The biggest problem is that you could spread viruses that can threaten the entire crop.
It goes without saying that the blooming status of the flowers depends to a large extent on the weather conditions, during the day and in the weeks/months before our visit.
Most of the above pictures' copyrights belong to the Keukenhof.
If you join the cycling tour, note that it is self-guided and that you are fully responsible yourself for loss or damage to the bike, your own safety and getting back on time.